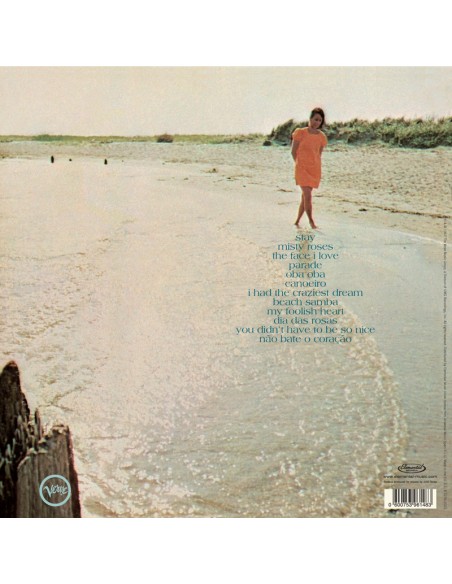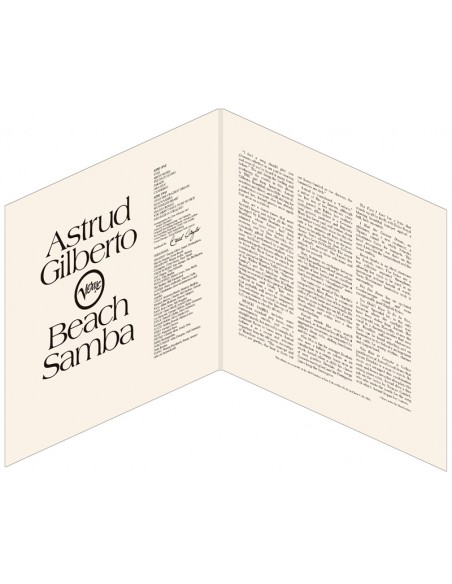 Astrud Gilberto - Beach Samba (Gatefold)
LIMITED EDITION LP
DELUXE 180-GRAM REISSUE 
SPECIAL GATEFOLD EDITION including original artwork
A studio album recorded by Astrud  Gilberto for Verve in 1967, with arrangements by Eumir Deodato and Don Sebesky, Beach Samba successfully showcases the singer's soft, soothing, playful, ethereal voice. The program consists of laid-back beach bossa nova tunes. The opening track, "Stay", is a true highlight, while "Beach Samba" is a wordless delight and "Canoeiro" rolls the Portuguese lyrics into a snaking rhythm. A real standout is "You Didn't Have to Be So Nice," a duet with her then-six-year-old son. Gilberto's vocals are backed by a sumptuous Brazil pop-cum-U.S. orchestration feel (Ron Carter and Toots Thielemans are among the sidemen, as well as Brazilian stars Marcos Valle and Claudio Slon). Some of the more pop choices are also remarkable, particularly Tim Hardin's gorgeous "Misty Roses."  
Beach Samba was included in the book 1001 Albums You Must Hear Before You Die. 
Elemental Music, together with Universal Music Group, present the best selection of 60's & 70's R&B, Soul, Funk, Disco, Jazz, Blues, Pop-Rock and Folk out of print titles from the vaults of classic labels such as Polydor, Motown, Verve, Impulse, Chess, MGM, A&M, Mercury or Capitol Records, among others.
Tracklist 
SIDE 1 
1. STAY
2. MISTY ROSES
3. THE FACE I LOVE†
4. PARADE
5. OBA OBA†
6. CANOEIRO†
SIDE 2
1. I HAD THE CRAZIEST DREAM 
2. BEACH SAMBA
3. MY FOOLISH HEART
4. DIA DAS ROSAS†
5. YOU DIDN'T HAVE TO BE SO NICE 
6. NÃO BATE O CORAÇÃO† 
Credits 
Arrangements by Don Sebesky and Eumir Deodato†
Director of Engineering: Val Valentin
Original Recording Engineer: Brooks Arthur 
Re-recording Engineer: Rudy Van Gelder
Produced by Creed Taylor
Release Date - January 27th, 2022.
Customers who bought this product also bought:
Customers who bought this product also bought: