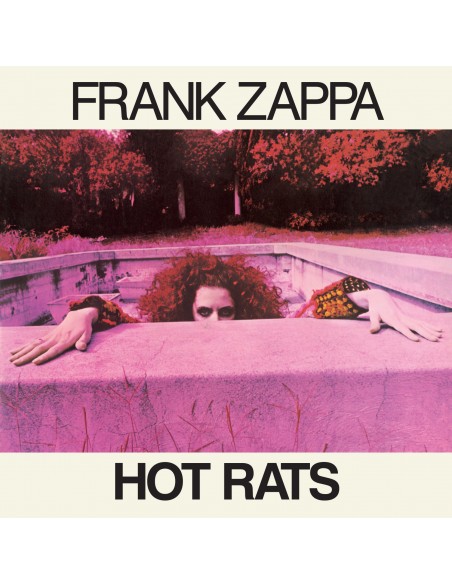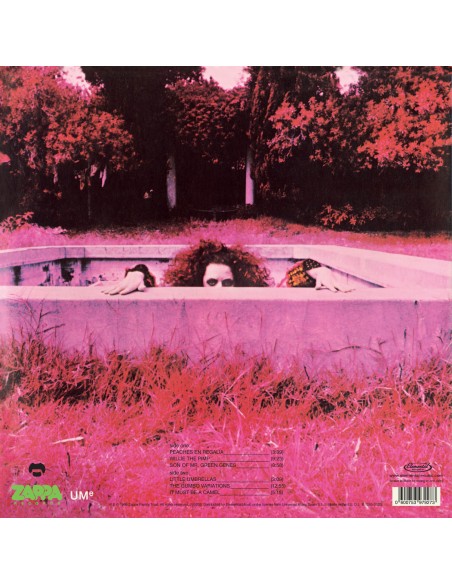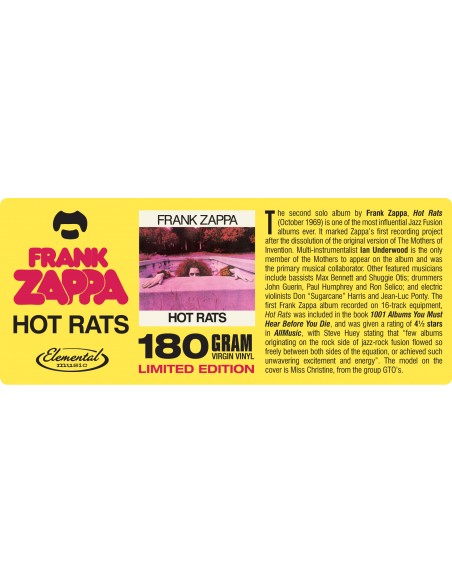 AVAILABLE ON NOVEMBER 3RD
SPECIAL GATEFOLD EDITION
180-GRAM VIRGIN VINYL RECORD


The second solo album by Frank Zappa, Hot Rats (October 1969) is one of the most influential Jazz fusion albums ever. It marked Zappa's first recording project after the dissolution of the original version of The Mothers of Invention. Multi-instrumentalist Ian Underwood is the only member of the Mothers to appear on the album and was the primary musical collaborator.
Other featured musicians include bassists Max Bennett and Shuggie Otis; drummers John Guerin, Paul Humphrey and Ron Selico; and electric violinists Don "Sugarcane" Harris and Jean-Luc Ponty. The first Frank Zappa album recorded on 16-track equipment, Hot Rats was included in the book 1001 Albums You Must Hear Before You Die, and was given a rating of 4½ stars in Al/Music, with Steve Huey stating that "few albums originating on the rock side of jazz-rock fusion flowed so freely between both sides of the equation, or achieved such unwavering excitement and energy". The model on the cover is Miss Christine, from the group GTO's.

Tracklist

SIDE A
1. Peaches En Regalia
2. Willie the Pimp
3. Son of Mr. Green Genes

SIDE B
1. Little Umbrellas
2. The Gumbo Variations
3. It Must Be a Camel


Personnel
Frank Zappa: Guitar, Octave Bass, Percussion
Ian Underwood: Piano, Organus Maximus, All Clarinets, All Saxes
Lowell George: Rhythm Guitar
Captain Beefheart: Vocal on "Willie The Pimp"
Sugar Cane Harris: Violin on "Willie The Pimp" & "The Gumbo Variations"
Jean Luc Ponty: Violin on "It Must Be A Camel"
John Guerin: Drums on "Willie The Pimp", "Little Umbrellas" & "It Must Be A Camel"
Paul Humphrey: Drums on "Son Of Mr. Green Genes" & "The Gumbo Variations"
Ron Selico: Drums on "Peaches En Regalia"
Max Bennett: Bass on "Willie The Pimp", "Son Of Mr. Green Genes", "Little Umbrellas", "The Gumbo Variations" & "It Must Be A Camel"
Shuggy Otis: Bass on "Peaches En Regalia"


Engineers: Dick Kunc-Whitney Studios
Jack Hunt-T.T.G.
Cliff Goldstein-T.T.G.
Brian Ingoldsby-Sunset Sound
Recorded 16 track August through September 1969 
Customers who bought this product also bought:
Customers who bought this product also bought: