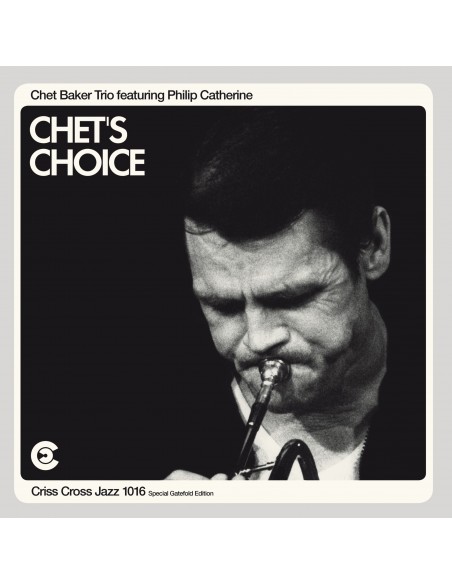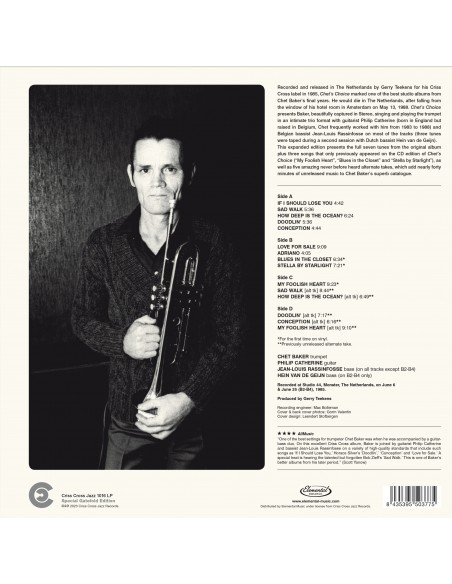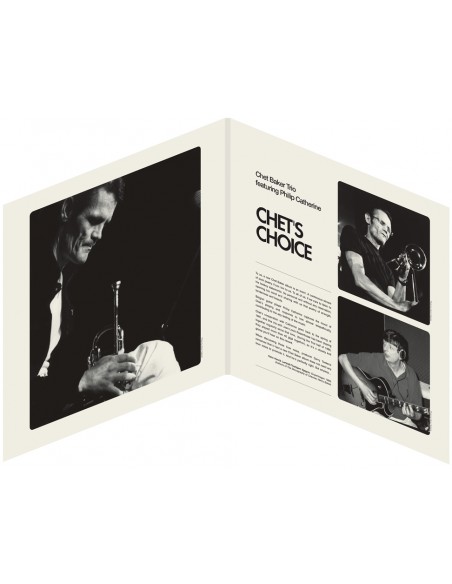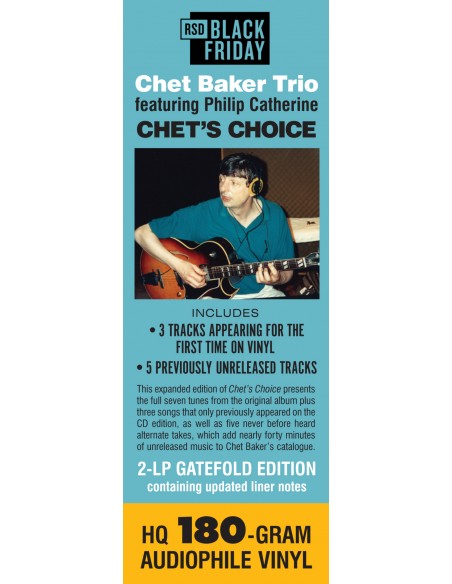 Chet Baker - Chet´s Choice
BLACK FRIDAY RSD SPECIAL EDITION AVAILABLE ON NOVEMBER 24TH, 2023 
LIMITED EDITION OF 3000 COPIES
DOUBLE GATEFOLD LP

INCLUDING NEVER BEFORE RELEASED CHET BAKER RECORDINGS! 


Recorded and released in The Netherlands by Gerry Teekens for his Criss Cross label in 1985, Chet's Choice marked one of the best studio albums from Chet Baker's final years. He would die in The Netherlands, after falling from the window of his hotel room in Amsterdam on May 13, 1988. Chet's Choice presents Baker, beautifully captured in Stereo, singing and playing the trumpet in an intimate trio format with guitarist Philip Catherine (born in England but raised in Belgium, Chet frequently worked with him from 1983 to 1988) and Belgian bassist Jean-Louis Rassinfosse on most of the tracks (three tunes were taped during a second session with Dutch bassist Hein van de Geijn).

This expanded edition presents the full seven tunes from the original album plus three songs that only previously appeared on the CD edition of Chet's Choice ("My Foolish Heart", "Blues in the Closet" and "Stella by Starlight"), as well as five amazing never before heard alternate takes, which add nearly forty minutes of unreleased music to Chet Baker's superb catalogue.
Tracklist
SIDE A
1. If I Should Lose You 
2. Sad Walk
3. How Deep Is The Ocean?
4. Doodlin' 
5. Conception 

SIDE B
1. Love For Sale 
2. Adriano 
3. Blues in the Closet 
4. Stella By Starlight 


SIDE C
1. My Foolish Heart 
2. Sad Walk 
3. How Deep is the Ocean

SIDE D
1. Doodlin'  (Alternative Take)
2. Conception (Alternative Take)
3. My Foolish Heart (Alternative Take)


Personnel

CHET BAKER: TRUMPET
PHILIP CATHERINE: GUITAR
JEAN LOUIS RASSINFOSSE: BASS (ON ALL TRACKS EXCEPT B2-B4)
HEIN VAN DE GEIJN: BASS (ON B2-B4 ONLY)


Release Date - November 24th, 2023